How to use Beacon triggered marketing to boost in-store sales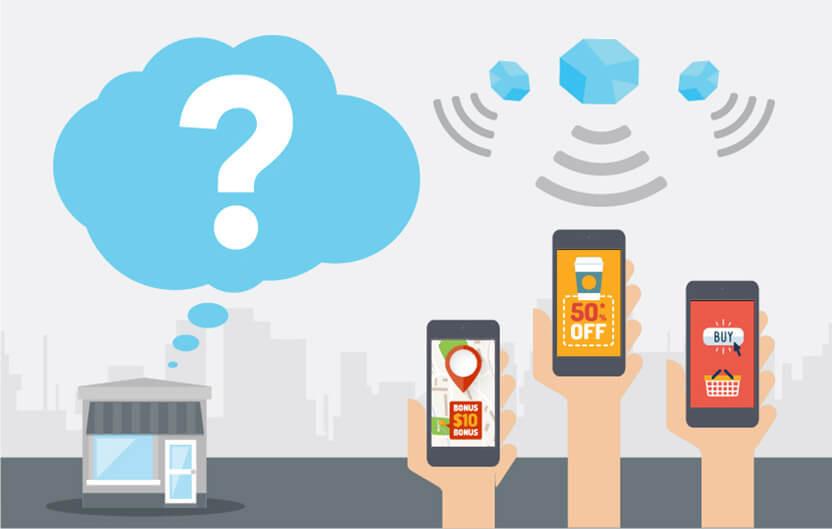 Beacon Triggered Marketing is a powerful strategy for directing customer engagement in your store. It is an advanced form of proximity marketing that you can start using today to boost your in-store sales.
What is a Beacon?
A beacon is a small piece of hardware that transmits signals to smartphones and tablets within a certain range of the beacon. The range of the beacon varies by manufacturer, but the general range seems to be around 50 metres (164 feet), so about half the distance of a football pitch or American football field.
Beacons send information about your store and location using Bluetooth Low Energy signals (BLE). Beacons can either send information to customers who have already downloaded your app, or to anyone in the area regardless of whether they have your app or not.
That last sentence is worth repeating: You can send push messages to potential customers within a few metres of your store regardless of whether or not they have your app. This gives you the ability to directly message to people that have never been to your store before, a big advantage over traditional email marketing.
You can send messages to customers without an app using Google's Eddystone platform. Eddystone beacons can reach bother Android and Apple users, which is especially valuable. You can learn more about Eddystone beacons here. Google provides instructions and tutorials on setting the beacons up, even giving recommendations on which beacon devices to buy.
How to boost sales with Beacons
You may be thinking:
It's cool that i can directly market to my customers' phones with beacons, but how can I use that to boost sales?"

While the possibilities are nearly endless, one of my favorite ways is using beacon triggered marketing to send customers digital coupons. No one likes pushy marketers. Customers will be annoyed if your beacon messages say "BUY NOW!!!". But imagine how your customers will feel if you send them push messages with offers and discounts attached. They'll feel pretty good right? That's what makes beacon marketing and digital coupons such a powerful combination. Here's an example: Pretend you're a retailer that has received an extra shipment of coffee mugs by mistake. You don't want the mugs to sit in your warehouse forever, so you decide to boost coffee mug sales and clear out your extra inventory.
Conclusion
Using beacons, you send a digital coupon to every person who enters your store: "Buy 2 coffee mugs, get 1 FREE." You see customers' faces perk up as they read your message and a small crowd begins to form in the drinkware aisle. Now, instead of selling 0 or 1 coffee mugs to your customers, people are buying 3 mugs at a time. By the end of the day, you're excess inventory has been sold and you've made your customers happy by offering them a deal. You can imagine how you can use this technique to boost in-store sales over time, either for specific products and brands, or simply your over-all sales figures.
Looking for a Mobile Marketing Software that allows you to use beacons and digital coupons to grow your business? Start your free trial now by clicking on the orange 'REGISTER' button at the bottom of the page.