People often say that a good restaurant does not need digital marketing. That may be true, but it still leaves a lot of potential untapped. Digital marketing can also ensure that your restaurant uses its maximum capacity every day. How Coupontools helps you do that? You can read about it here.
What does useful Digital Restaurant Marketing Software contain?
A useful Digital Restaurant Marketing Software or Digital Restaurant Promotion Software has a whole range of different features. Below I have listed some important ones for you.
Versatility
A decent Restaurant Digital Promotion Management Software is versatile. It means that it allows you to design different campaign formats. At Coupontools, you can create, distribute and validate digital coupons, different types of game coupons, vouchers, and coupon catalogs, among others. In short, it is your 'one-stop' solution for managing your digital marketing campaigns.
Security - Fraudproof
Security shouldn't be underestimated. Only work with a partner who can guarantee highly secure campaigns. If you overlook this, your campaign could end up in a disaster. At Coupontools, you don't need to worry. Thanks to our years of experience, we have solutions for campaigns for multiple-use and single-use. Moreover, you can further secure your campaigns. For example, you can ask for a unique phone number to send the digital coupon to. Unique phone numbers can receive the coupon. Otherwise, it will not be sent. Here's some more information.
Useful features that make the difference
A Digital Restaurant Marketing Software platform should also contain useful and crucial features to give your campaigns an extra cachet. At the Coupontools, you will find these handy features, among others.
Digital Coupon Validation Availability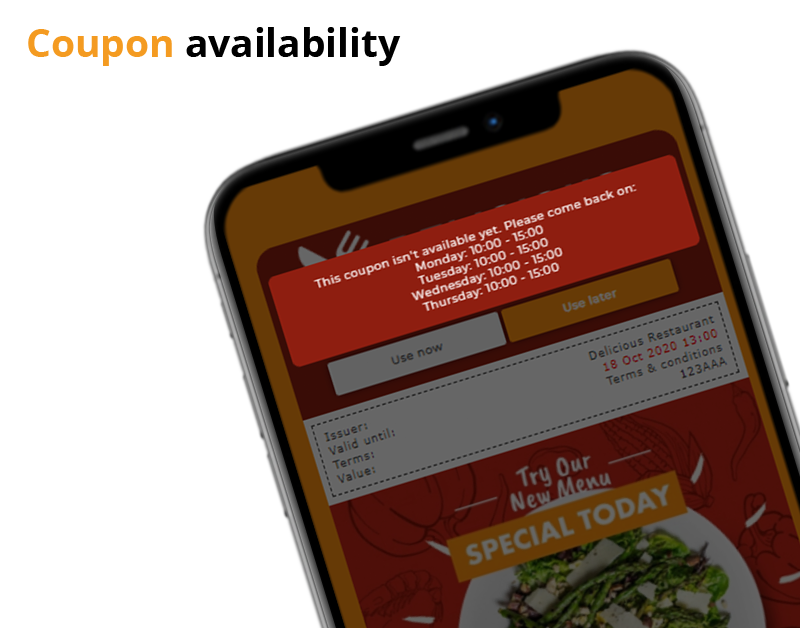 Schedule your traffic. With these features, people can only redeem your coupon within a specific timeframe. It's a perfect tool to fill your tables in quiet times.
Mobile wallets are on the rise. Restaurant marketers should benefit from that. Digital campaigns created with Coupontools are perfectly stackable in a Mobile Wallet. Above all, you can directly send push notifications to people who stored your digital campaign in their Mobile Wallets. An ultimate call to action? Check this article for more information on Mobile Wallets
Digital coupons that are time-limited create urgency and result in better converting digital campaigns. Set up start dates, expiration dates, and an expiration counter to nudge the users towards a conversion. No-one likes to miss out on discounts.
Apart from limiting digital campaigns in time, you can also limit them in quantity. E.g., You can set up how many coupon claims and validations you allow. If you have reached the limitation, the coupon will not be available anymore. It's also possible to display a counter near it.
In my opinion, this is something crucial, especially for restaurants. Handing out discounts is great to generate traffic. But handing out discounts without getting anything in return isn't the smartest idea.
That's where the Coupontools digital coupons come in handy. Easily include a data capture form in your coupon. Users have to complete this form for access to the discount. One of the best ways to kickstart your customer database of people who have proven to interact with your promotions. Very convenient to distribute future campaigns directly among interested people.
Accurate return on investment overview
A major asset of digital is traceability. That's something that traditional marketing lacks. Thanks to digital Coupons, you can enter the money spent value for every coupon validated. This way, you'll end up with a detailed overview of what every coupon exactly yielded. Press on the image for more information.

Impressive Gamified Coupon formats
Digital discount coupons are great. But these days, people expect even more than simple discounts. They're looking for fun and experiences. To combine the best of both worlds, you can easily whip up the most impressive Gamified Coupons using the Coupontools software. Create scratch & win coupons, spin wheel coupons, slot machine coupons, memory game coupons, and match2win coupons. Furthermore, users are way more likely to convert if they 'WIN' a discount! They definitely don't want to miss out on their reward.
Experience the Gamified Coupons yourself!
Run automated campaigns


Work smarter, not harder. This should be the motto of every restaurant owner. Thanks to the Coupontools software you can automate your campaigns. We provide Zapier and API integrations to make that possible. Zapier allows you to make a connection between Coupontools and your other favorite apps. This is how automation is possible.

Here's an overview of our predefined zaps.



Entirely white label
An excellent Restaurant promotion software allows you to rebrand the digital campaigns entirely. Easily add your logo, corporate colors, and images. At Coupontools, you can even rebrand the entire platform.
Actionable insights
Digital is trackable. That's one of the main advantages. It provides you vital insights such as:
As mentioned before, you can effortlessly kickstart a customer database using digital coupons. Capture data before they can redeem the coupon. All data is carefully stored in the statistics, ready for you to consult and use!
Apart from customer data, you also end up with exciting campaign data such as an overview of people that interacted with your coupon, the number of opens, claims, and validations. Multiple venues? Track redemptions for every location separately.
User-friendliness
Since this software is designed to 'do-it-yourself', it should be very user-friendly and self-explanatory. It also helps a lot if a great and approachable support team guides you through the platform. Apart from that, tutorial videos and help articles are beneficial. It's also very convenient to have some ready-to-use Restaurant campaign templates. Don't be afraid; those templates are also entirely customizable, but they give you a ground to start from.
Bottomline
If you want to revolutionize your digital marketing strategy, Coupontools has a lot to offer. It allows you to create, distribute and validate the most interactive digital campaigns. It contains all the convenient features you might need to launch result-driven and converting digital coupons, gamified coupons, vouchers, and mobile coupon directories. Sign-up for a trial account today and experience it yourself!
Might you have any questions how our Coupontools Software can help you with Digital Restaurant Marketing, get in touch with Bert or Jordy!


Email Chat with us Schedule a demo