2021 is finally nearing its end. I think we can agree that it has been far from an enjoyable year. Let's hope that 2022 will become a better, germ-free, and more pleasant year in comparison with 2021. Anyway, now 2022 is nearing, I want to shine my light on the most prominent digital coupon trends for 2022. I could impossibly write an article without touching the Covid-19 subject because, for now, it's an inseparable part of our daily lives and thus affects the way we do business and marketing evolves.
1. Digital coupons in general
Due to the covid-19 pandemic, that process has picked up the pace now. Businesses who hadn't a 'digital first policy' had to develop one in a short time. Otherwise, there was almost no way to stay in business. These are the main advantages of digital coupons.
Trackable




Digital always has the advantage of being completely trackable. This way, you know precisely how much came in for every dollar spent. But there's more.

Statistics




Digital coupons are entirely trackable. It gives you thus much information about your campaign and the end-user. You'll have insights such as locations, campaign open, claim, and validation rate, which stores had the most redeems.




ROI overview




Thanks to the digital coupons, you'll end up with a detailed ROI overview. We offer features such as 'request money spent value after redemption.' This way, you can add additional data and the money spent value to that coupon. So you know exactly how much that user spent using your coupon.




Reduced costs




Digital might feel like an investment in advance. But if you do the math afterward, you'll notice that traditional paper marketing is way more expensive. There's no more printing costs and fewer distribution costs. Furthermore, it's surprisingly easy to change deals rapidly.




Data capture




Digital coupons are the perfect tool to capture customer data effortlessly. Easily add a claim requirement, such as data capture, to your coupon. Users are first required to fulfill the claim requirement before they're able to enjoy their digital coupon.

This way, you can quickly kickstart an actionable customer database of your own!



2. Covid Proof Campaigns
Due to covid-19, unnecessary contacts have been reduced dramatically, and keeping a safe distance is 'the new' normal. These safety measures have become a way of life. The habit has been adopted and is likely to stay around for some time. Given that situation, digital campaigns are the best way to maintain your mobile marketing at a certain level.

With the Coupontools digital coupons, you can easily maintain a safe distance and reduce contact. We offer the most interactive digital coupon software and the possibility to validate the coupon from a safe distance. So you don't need to touch anyone's device or even come near to them

Furthermore, our digital coupons dispose of the most advanced features. We offer various secure validation methods that are perfectly operable from a safe distance. Our Coupons also have the option to help you shift your footfall to your store. The Coupon Validation Availability is an excellent feature to schedule your traffic.

For more information about covid proof campaigns, have a look at the following article!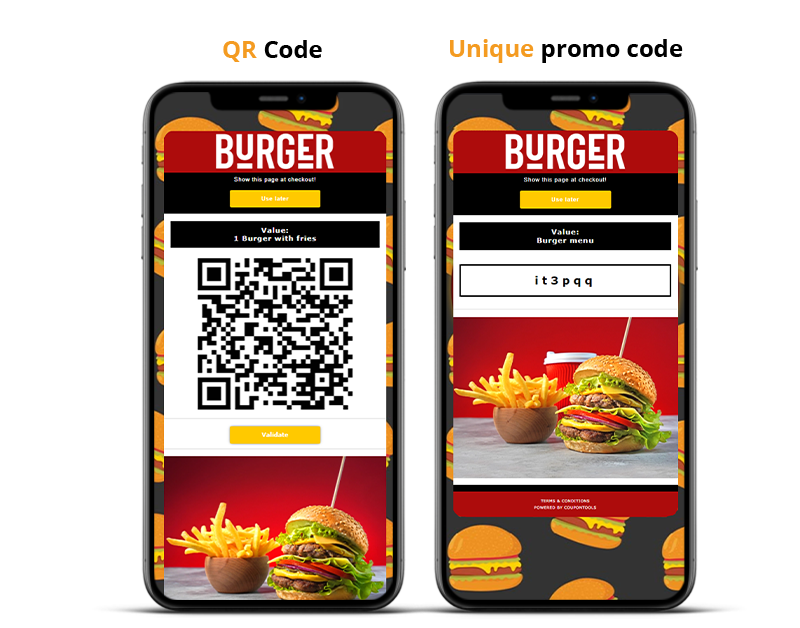 3. Experience marketing at the venue
Digital gamified coupons are loved by merchants to enrich the physical shopping experience at the venue. A gamified coupon offers fun and suspense to the customer. On the other hand, it's also a convincing trigger for the visitor. If a visitor wins a discount in your shop, he's way more likely to redeem it right away. The visitor feels chosen and doesn't want to miss out on the prize that he just won. That's why digital gamified coupons will raise customer engagement, impulsive purchases, and customer experience.
We provide various appropriate distribution methods for gamified coupons at the venue. If you're interested in those, I recommend you to read the following article.

4. Mobile Wallet Marketing
Mobile Wallet Marketing might be one of the most exciting features to consider in 2021. More and more people will use mobile wallets, and the actual mobile wallets are equipped with more advanced features. To take advantage of Mobile Wallets, Marketers must first search for a way in. A mobile Coupon or mobile Loyalty Card could do the trick. A user saves it to their mobile wallet and opens the door for precisely targeted communication. The Mobile Wallet passes are seen as lightweight apps because of the slightly comparable features they provide. The real challenge is balancing your efforts wisely and only sending important, relevant, and useful notifications to make sure you don't bother the user.
Mobile Coupon options




These are rather basic for now. A Merchant has to enable the 'save2mobilewallet' option while creating the coupon. When a client saved a Coupon to their wallet, a merchant can send necessary 'notifications': 'Don't forget to redeem your Coupon' or 'Your coupon is only valid for three more days.'




Loyalty Card options




Loyalty Cards enable more options for Marketers to reach the user at critical moments. If a Loyalty Card is saved in the wallet, it allows Merchants to send push notifications based on geofencing. The push notifications options are yet to improve in 2021.



5. Payment Vouchers
Payment vouchers have become increasingly popular since the Covid-19 pandemic. It was the most appropriate solution to generate some revenue while being in lockdown. It was also a great solution to accept orders and payments online. Perfect for delivery or takeaway purposes.
However, payment vouchers are a perfect fit for multiple situations. For a detailed explanation, you can read this article.
Pay in advance, get goods delivered / ready to take out


Merchants distribute the digital vouchers via their communication channels (website, Facebook page,..) Customers can place an order in the Voucher and already fulfill the payment in the voucher. After the payment, they receive proof of their purchase. The Merchant validates this proof. In case of successful validation, the customer gets its goods.



Pay upfront and get a discount


You pay upfront and unlock a discount voucher or a 'Buy One Get One Free' voucher.



Pay Partly upfront (Pre-order situation)


It's a deposit situation. Pay partly upfront; the voucher functions as evidence of your purchase, and the rest that still has to be paid.



Gift Card Formula


Pay upfront and receive a 'gift card voucher.' The gift card is worth as much as you've paid upfront.



Payment integrations for tickets


Same principle as a gift card. The only aspect slightly different is that you don't give it to anyone as the voucher functions here as the entrance ticket. Show your entrance ticket for validation and get access to the event.



Charity Payment before a Coupon is available


Donate money to a charity upfront and get rewarded with a discount from the Merchant. A great tool to give back to the community without neglecting your business goals.
Are you ready to jump on the digital bandwagon? Let Coupontools lead you the way and have your mobile marketing approach revolutionized.

Sign up for a free trial account and create your first digital coupons today!


Do you want more information?


Email Chat with us Schedule a demo