Digital Coupon Catalog for your restaurant
Restaurants often have rapidly changing promotions to stimulate people to visit their venue. Traditionally, they used paper coupons or paper coupon books to reach their target audience. Let's say it's like F1 racing with an old Lada. You'll reach the finish line, but there are more effective ways to do so. I'll give you an overview of the most exciting features of our digital coupon catalog. By the way, here's a real example of a performing Directory.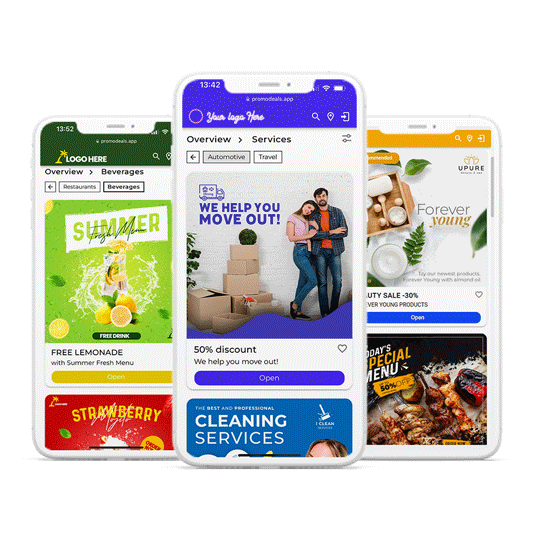 Data

Campaign data




Digital always has a significant advantage to be completely trackable. It's crucial information that's relevant for your future marketing campaign. Obtain insights into the open rates, claim rates, and redeem rates of your digital campaigns.




Personal data




A digital coupon catalog also has various applications for collecting personal data. Require users to register before they have access to the Coupon Catalog. Another option is to add a data capture form to your coupon that has to be completed to gain access to the coupon. All the data is carefully stored and ready for you to consult.



User registration


Apart from data collection, user registration also guarantees more security. If a user created an account, it's easier to ensure airtight single-use campaigns. Furthermore, our system provides various social login options, which makes registration more accessible.



Payments


It's up to you if you charge users to use your Digital Coupon Catalog. Coupontools provides various payment integrations to enable it. This way, you can increase your deals' value while asking your customers for a participation fee.



Reduced print cost


Deals, whether they're paper or digital, have the urge to change rapidly. A digital solution doesn't require any print costs. A digital solution might seem like an investment in advance, but it pays off.



Collection of all your deals which is always with the audience


A Digital Coupon Book is capable of holding all your digital campaigns made with Coupontools. You can easily add digital coupons, vouchers, and loyalty cards to your Directory. This way, your audience knows where to look for your latest deals.



User-friendly


A Digital Coupon Catalog is both user-friendly for the creator as the customer.

The creator quickly adds new coupons and removes the expired coupons. If you feature a deal, it will always show first in the Directory. Furthermore, the software is your one-stop solution. From creation until validation, you can do it all with Coupontools.

Users can easily browse within the Directory. There are convenient features such as search functionalities, categories, and GPS locations, which show the nearby deals.



Maps integrations


As mentioned above, the Directory comes with a GPS-location feature and the integration of a map. The map shows all the deals in the Directory within a predetermined radius. The user can allow their GPS-location to obtain an overview of all the deals near its location.



Easy distribution


A coupon directory is easy to spread among your audience. It seamlessly integrates into your website, existing app, Facebook Page, or Mobile Marketing Kiosk. If you don't have an app yet, a mobile coupon directory can also be a lightweight app with basic functionalities.



Share options


You decide whether users can share the digital coupon directory or deals within it with their friends. No worries, all campaigns remain single-use. It's just beneficial to allow users to share your campaign with friends. This way, your campaign spreads without additional marketing costs.



Your brand


The Digital Coupon Catalog of Coupontools is entirely customizable. Add your logo, your branding, your socials, your website; every aspect is customizable. Do you want to show your domain name as a campaign URL? No problem, it's all possible at Coupontools.
A mobile coupon directory has many benefits. It's easy to create and distribute it to your audience. Furthermore, your customers know where to search for your latest deals. Instead of launching and promoting every coupon separately, promote your coupon directory. This will save you a lot of money and work. Experience a live example of a Mobile Coupon Directory!
Sign up for a trial account and create coupons and coupon directories yourself!