What A Mobile Coupon Book is relevant for
We all know the ordinary paper Coupon Books. Isn't it time to throw it out and act more in 2020? Well, the Digital Coupon Book is thé solution. It offers a multitude of extraordinary features that aren't only more ecological but will also gain you relevant intel on how your customers interact with your Mobile Coupons. Learn more about the Mobile Coupon Directory and its usage.
Features:
Group Mobile Coupons in one Mobile App.

Categorize your Mobile Coupons to improve the user-friendliness

Search Functionality, so you easily find the Mobile Coupon you're looking for.

Payment Integrations

GPS Location and Maps Integration

Integrates with your Website, App, or Facebook Tab. It can be an app itself.

User Registration to collect relevant data

Mobile Marketing Kiosk Mode -> Set up an in-store Mobile Marketing Kiosk and let customers send coupons to themselves.

Each partner has their own sub-account, and the admin decides if the sub-account can see statistics.

Share Coupons with friends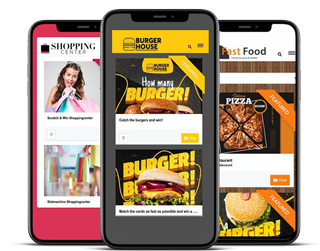 In which environments is it useful?
City Marketing
A city appoints a responsible person. He'll be the point of contact for the Merchants. He sets up the Merchants sub-accounts, guides them through the platform, and helps them create Coupons or create Coupons for the Merchants. He'll manage the Mobile Coupon Book and will act whenever problems come up. When the Mobile Coupons are all in one City App, the local merchants benefit from the huge exposure a city has in comparison with a local merchant. It's a great tool to keep your city active and give the local merchants a little help. People will love it too; they find all the relevant promotions in one City App instead of browsing through all the apps separately.
Shopping Centers
Same story as the City Marketing example. In this case, the Shopping Center will appoint someone to manage the Mobile Coupon Book. He maintains, manages, follows up, and coordinates the Mobile Coupon Book. He'll be the point of contact for the participating Merchants. He assures everyone respects the deadlines, he helps the Merchants with the creation of Mobile Coupons, and he's responsible for the promotional communication about the Mobile Coupon Book. The Merchants combine their forces and gather more exposure.
Hotels / Resorts
A Mobile Coupon Book is an interesting tool for Hotels and Resorts. They can integrate a Mobile Coupon Book in their existing app. The Resorts close a partnership with inhouse or nearby located stores, boutiques, restaurants, etc. It's a win-win. The local shops get more traffic and might generate more sales. The guests are happy the Hotels offers them a Mobile Coupon Book and discounts in the nearby stores and shops.
Retail
Retailers always have and are still using Paper Coupon Books. A Mobile Coupon Book might be a better solution. Here's why. Since promotions change rapidly, it's easier to update your Mobile Coupon Book than printing a new one. You're always with your audience, gather more insights, and reduce your paper usage and cost are other benefits.
Example Directories:
Those are, for now, the most common environments where Mobile Coupon Books are already used. Interested in using the Mobile Coupon Book for your purposes?
Reach out to us to discuss your case!



Email Chat with us Schedule a demo