Use Case: Coca Cola - Recycle
OVERVIEW
Recycling is a hot item these days. They're right, correctly depositing your waste is an important step in the right direction. Coca Cola European Partners Belgium highlighted this in its latest recycling campaign. They developed a brand-new, fully automated garbage bin that stimulates and rewards recycling. For technological assistance, CCEP partnered up with Coupontools. We were very excited when they reached out to us. Here's how we contributed to their recycling campaign!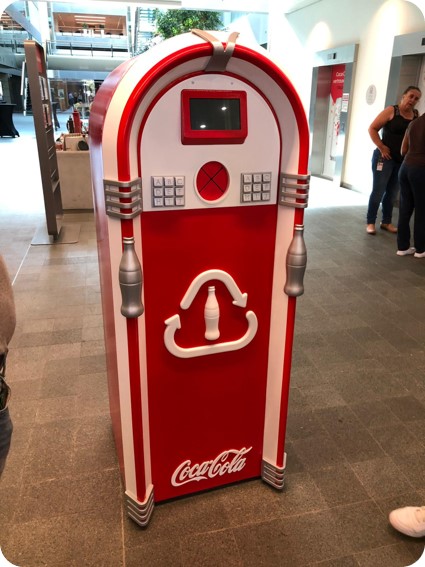 Coupontools took care of the technological system of the garbage bin. The system functioned like this: When someone deposited a Coca Cola bottle or can in the automated garbage bin, a QR-code popped up at the screen of the bin. The person scanned the QR-code and was to a 'Scratch & Win' Coupon by which a movie ticket could be won. If the player won a Cinema ticket, basic personal details were asked in order to receive their reward. The ticket was automatically sent to the winner's email address.

Unfortunately, not every user won a prize, but the chance to win was an important trigger to deposit the bottles and stimulate recycling correctly.

Campaign approach
Their approach was to reward desirable behavior with a fun game, experience, and in some cases, a reward. It was a massive trigger for the people to deposit their waste correctly. It was a typical Phygital Campaign. The automated waste bin was located at a physical location, a festival. People who deposited their cans and bottles were offered a digital 'Scratch&win' coupon with a chance to win a reward. They chose intentionally for a digital experience. It's better for the environment and enables more possibilities for fun experiences, data capture, and participation analysis.

Campaign Flow
Deposit can/bottle

Scan QR code displayed on the bin.

Receive scratch & win coupon

Scratch your coupon.

WIN OR LOSE

Registration (Name, email)
If won, cinema ticket automatically sent to the winner.
D
U
Others also read
these stories
To reward their existing clients SipWell launched a Holiday Coupon Campaign!

Oma Fresh Foods recently opened a new location. Check how they used the Coupontools' coupons to gain exposure.
PepsiCo boosted up Round Table Pizza sales with gamified coupons from Coupontools.
Pepsico & Round Table Pizza
Brand
SipWell launched a gamified coupon campaign to reward their loyal customers.

Burger King Cyprus uses Coupontools to boost their mobile marketing!

Phygital Scratch & Win Marketing case for Coca Cola Belgium

Melvita was interested in using a durable coupon solution:

Dave & Buster's is a restaurant and entertainment chain with 137 locations across the United States.

Zain Bahrein, a leading telecommunications operator chose to reward loyal customers with gamified coupons.
Ecco is a Danish shoe retailer. They've set up a special Holiday Campaign using digital Spin Wheel coupons.